In the mind of a trainee
When Sara Johansson won the Future Female Leader Award in 2012, the price was that she could pick three companies where she wanted to spend her trainee period. The competition annually appoints the KTH top female engineering student.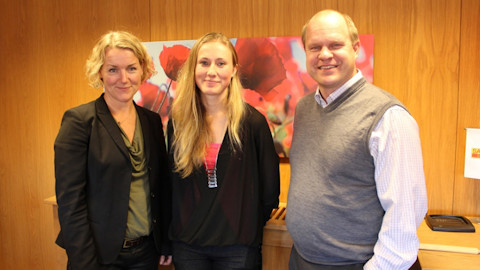 As Sara has a great interest in production and also values job satisfaction, she picked Sandvik as one of the three. The first time she came across Sandvik Coromant was when she studied industrial production and metal cutting at the KTH Royal Institute of Technology. During her years there, a number of visits at different production units were included.
Stretching the boundaries
Sara has engaged in her trainee period with an open mind, well aware of the fact that the metal cutting industry isn't the easiest to get into for a young female engineering student.
There are great opportunities at Sandvik if you want to work globally in a world leading company. The product development is really interesting and a good balance between assigned tasks and own initiatives. I chose Sandvik Coromant because I like their products and as they create reality from viritual 3D-models, Sandvik Coromant actually stretches the boundaries to what's possible in the future."
Klas Forsström, President, Sandvik Coromant, is very proud that Sara chose Sandvik, and after listening to her concluding presentation, he comments:
Having Sara here provides us with a great opportunity to get an external view on how we work and what we can do better."