New head of Group Communications
Jessica Alm, head of communications at Sandvik Coromant, has been appointed Executive Vice President and Head of Group Communications as well as member of the Group Executive Management of Sandvik AB.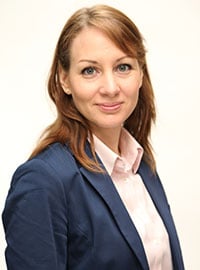 Jessica Alm, new head of Group Communications at Sandvik.She will take up her new position as of 1 July 2013. Jessica Alm succeeds Jan Lissåker who will take up a new position as Group Senior Advisor in larger projects.
Jessica Alm is 35 years and employed at Sandvik since 2006. She has, in a successful way, developed internal and external communication as well as the brand position of Sandvik Coromant, the world leader in metal cutting.
In the new role as Group Senior Advisor Jan Lissåker will keep some of his present responsibilities and at the same time support different parts of the organization in various strategical challenges. This role, reporting directly to the CEO, demands a broad background in financial and strategical analysis as well as in communication.
"Sandvik is undertaking a number of strategic development projects.This demands a strong communication organization but also that we meet the needs of fast and flexible support with experience and competence in different projects. I am convinced that Jessica and Jan, with the experience and competence they both possess, are well suited for their new roles", says Olof Faxander, President and CEO of Sandvik.
Stockholm, 27 June, 2013
Sandvik AB