Petra Einarsson named this year's "Most powerful woman in business in Sweden"
Petra Einarsson, President of Sandvik Materials Technology, was named the 2013 winner of the prestigious award "Most powerful woman in business in Sweden". She was presented with the award on 5 March at a ceremony at the Stockholm Waterfront Congress Centre.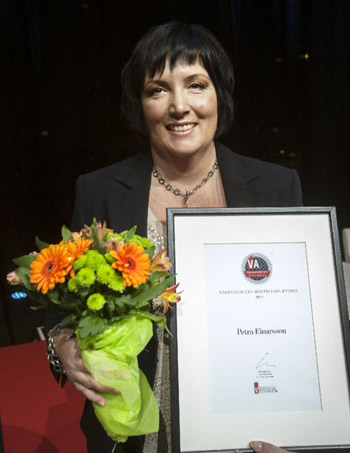 Petra Einarsson joins a long line of women in the Swedish business world to win the award, an initiative run by Veckans Affärer, one of Sweden's leading weekly business magazines. 2013 was the 15th consecutive year the award has been handed out.
This year the award was given to the first woman in the 150-year history of Sandvik to lead a business area, as a member of the Group Executive Management Team.
On 1 February, 2013 Petra Einarsson was appointed President of Sandvik Materials Technology, the company where she started her career in 1989. Since then she has held various financial roles within Sandvik Materials Technology, such as business controller as well as CFO and responsible for purchasing. Between 2007 and 2011, Petra Einarsson was the Head of product area Strip. From 2011 to February 2013, she was the Head of Sandvik Materials Technolgy'slargest product area Tube before she was appointed President of the business area.