Profile: Karl Thelen
Karl Thelen grew up in a village in western Germany with only 600 inhabitants, and wanted nothing more than to live his life there. However, when he completed his degree in mechanical engineering, he got in touch with Sandvik.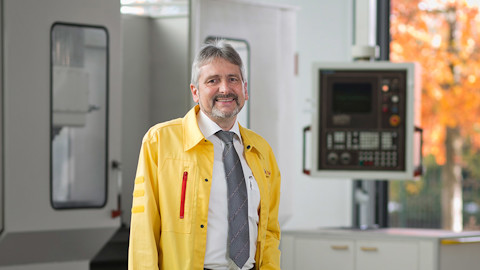 "They offered me a job," he recalls. "I consulted with my wife,who is from the same village. Was she – were we – prepared tomove to another part of Germany?" The answer was yes. That was 33 years ago.
Currently he is test manager at Sandvik Machining Solutions in Düsseldorf, Germany. In that role, he and his team of trainers meet as many as 4,000 customers in a year. They work in the spirit of Sandvik's core values – Open Mind, Fair Play and Team Spirit.
"It is important to encourage customers to have an open mind when we show them new products we hav developed," says Karl Thelen. "They need to really consider if a particular product can be of use to them.
Recycling for the future
"Once the product has been used, it's important that it's recycled. That's one important aspect of Fair Play, says Karl Thelen. "Sandvik is increasingly structured when it comes to recycling," he says. "For instance, we repurchase customers' worn-out drills and inserts and send the equipment to Sandvik's recycling facilities in India and Austria. Recycling costs time and money, but it's worth it. It is fair play for the environment.
Team work gives customer success
"Karl's team of trainers in Düsseldorf consists of a handful of people. He has continued the team-spirit tradition started by his former boss: Twice a year his group and retired trainers gather to cycle along the Rhine and spend the evening dining together. "Acting alone is not strong," Karl Thelen says.
Customers have good knowledge of their machines and processes. Sandvik has extensive knowledge of tools. Put those skills together in a team, and then you are strong."