Diamond Innovations Ireland - Winners of Supreme Safety Award 2011
Diamond Innovations Ireland was recognized with the Supreme Award at the National Irish Safety Organisation (NISO) conference in Killarney, Ireland on Friday, 7 October, 2011.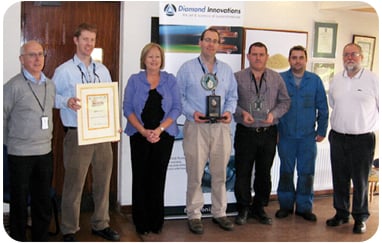 L to R: Pat Lynch (Facilities & Maintenance Leader), Oran Hickey (Management Safety Representative), Majella Rickard (HR), Niall Murphy (Managing Director), Ronan Magner (EHS Leader), Gerard Walsh (Maintenance Team Safety representative) & Andrew Grant (Production Team Safety Representative). Absent: Robert Mangan (Maintenance Team Safety representative)
The winner of the Supreme Safety Award is an organization that shows consistency in health and safety performance over a number of years and an outstanding contribution to occupational health and safety throughout the current year.
NISO is an organization dedicated to the promotion of health and safety and creating these conditions for workplaces on the island of Ireland, so they are the safest and healthiest in Europe.
The Diamond Innovations' Ireland team is very proud of this achievement as it reflects the ongoing commitment and engagement of all employees to continuous improvement in safety.
This is the second occasion that the site has won the premium award, having previously won the award in 2002.