The APDIC Industrial Award goes to Sandvik
Sandvik has been honoured with the APDIC Industrial Award 2010. Susanne Norgren from Sandvik Mining and Construction represented Sandvik at the award ceremony last
week.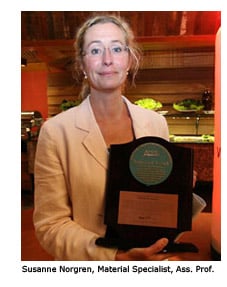 APDIC stands for Alloy Phase Diagram International Commission, which is a council of members who maintain major phase diagram activities. APDIC is a non-profit organization, operating worldwide.
With the following statement the jury gives their motivation for the nomination:
Sandvik has long been a pioneer in the use of techniques for the calculation of phase diagrams from critically assessed thermodynamic data in support of alloy development both in terms of the development of steels and cemented carbides. It was the first industrial organisation anywhere in the world to base new alloys from results of thermodynamic calculations carried out in the early 1980's and now references thermodynamic calculations as one of its most important research and development tools. Sandvik has continued to be a strong supporter of such activities.
Sandviken, 8 June 2011