Olof Faxander appointed new President and CEO of Sandvik
Sandvik's Board of Directors has appointed Olof Faxander as new President and CEO with effect from 1 February 2011.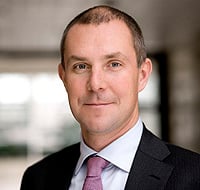 Olof Faxander will succeed Lars Pettersson who, after nine years as CEO, will leave Sandvik in conjunction with an impending generation shift in the company's Group Executive Management. The change has been made in light of a homogeneous age structure and allows a new President to personally shape the future executive management team.


Olof Faxander was born in 1970 and holds an M. Sc. and B. Sc. He has held the position of President and CEO of SSAB since 2006. Prior to this, Olof Faxander had ten years of solid industry experience from senior positions at Avesta Sheffield, Avesta Polarit and the Outokumpu Group. He is also Chairman of the Board of the trade association Jernkontoret (The Swedish Steel Producers' Association).
During his time at SSAB, Olof Faxander has successfully strengthened the company's niche orientation and broadened its geographical focus. In addition, he has demonstrated a renowned ability to build organizations and develop its employees.
Sandvik's Chairman of the Board Anders Nyrén had the following comments on the change: "Olof Faxander represents the modern leadership required in a changing and increasingly global world. He has broad international experience from intensely competitive markets undergoing change and has proven ability to develop companies for increased value generation. Sandvik is a knowledge-based company and Olof Faxander will now have an important role to play in the company's continued development".
"At the same time, I would like to thank Lars Pettersson for his model leadership during his nine years as CEO. During this period, the company has strengthened its global market position through its distinct customer focus, its investments in research and development and the launch of new products, all while managing the recent financial crisis in an exemplary manner. Under Lars Pettersson's time as President, Sandvik's market capitalization has increased from SEK 60 billion to SEK 150 billion, which together with dividends, generated an annual return of 16 percent."
Sandviken, 14 December 2010
Sandvik Aktiebolag (publ)
The Board