Success for Sandvik Coromant at IMTS in Chicago
Sandvik Coromant was one of the 1,300 exhibitors at the International Manufacturing Technology Show (IMTS) which took place at the beginning of September in Chicago, USA.
At a booth covering 4,000 square feet, Sandvik Coromant demonstrated how productivity partnerships will greatly reduce leadtimes, cut costs and improve productivity in real world applications.
In addition, computer software was presented to show how correct tooling selection at the time of machine purchase can dramatically improve payback.
Of course, there were a number of new products presented at the booth as well, like the new CoroMill Century high speed machining facemill for maximized throughput in aluminum, graphite and other non-ferrous materials. For holemaking, the new R-840 Delta C drill offers up to 100% greater productivity than conventional solid carbide drills. The new VCEX geometry inserts for Swiss machining are the latest additions to the CoroTurn family of turning inserts. Also debuting at our booth was the high-throughput CoroMill 390 long-edge facemill, for feed rates 25 to 40% higher than normal indexable facemills. And many, many more new efficient cutting tools.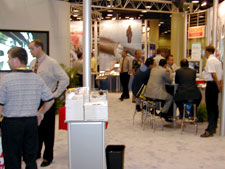 Specialist in action showing customers one of Coromant's "Ingenious Solutions" regarding productivity.