Seamless Flow, or hyperautomation, is transforming industries and societies across the world. Automated, digitalized processes and AI-enhanced decisions reduce costs and free up time to spend on adding real customer value. At Sandvik, Seamless Flow is a big step forward in the digitalization journey, says CEO Stefan Widing.
Seamless flow is a concept that usually refers to a production process where information flows automatically across the value chain, producing the desired product or service without human intervention.
Normally applied to industrial processes, the concept is tried elsewhere too. At Fiumicino Airport in Rome, for example, the Seamless Flow One-ID platform uses facial recognition technology to reduce the amount of time travelers need to move through the airport. The opt-in self-service solution covers every step of the passenger journey, from check-in all the way to boarding. Those who choose to use it must submit to a facial recognition scan, which is compared to the photo on their official travel document. The traveler's facial biometrics will be linked to their passport and travel information, allowing them to move through security checkpoints and board the plane without needing to show their boarding pass or any additional documents.
Hyperautomation trend
If that sounds like a traveler's dream, Seamless Flow conjures up "manufacturing Nirvana." Is it true? "Hyperautomation is irreversible and inevitable," states leading technology research and advisory company Gartner in Top Strategic Tech Trends for 2021. "Everything that can be automated will be automated." The report describes how hyperautomation has been trending over the past few years, mainly because of the pent-up demand for operationally resilient business processes. Competitive pressures for efficiency, efficacy and business agility are forcing organizations to address it, and those who don't will struggle to remain competitive or to differentiate.
Seamless flow is not a new phenomenon, but factory shutdowns and disrupted supply chains in the wake of Covid-19 have sped up its deployment. In addition, rapid developments within the IT landscape during the past decade have enabled significant efficiency improvements in internal processes. Within most organizations, enterprise resource planning (ERP) systems now support many of the tasks that previously needed to be done manually.
Stefan Widing
Hyperautomation does not necessarily render human employees redundant, but rather they are granted more time to spend on activities that really result in customer value, such as advice and guidance (few customers view the manual key punching of routine orders as adding value). Business magazine Forbes notes that until a few years ago, most organizations wrestled with many simple, repetitive and rules-based tasks and processes. People could have been deployed to do something more productive and worthwhile had there been a choice.
An important part of the strategy
"Everything changed," Forbes adds, "when robotic process automation (RPA) came into the picture. Dull and repetitive tasks could now be assigned to automation robots. They completed tasks faster and with near precision. RPA increased operational efficiency, accuracy and error reduction. All in all, it improved employee productivity and helped accomplish business goals faster."
At Sandvik, CEO Stefan Widing says: "Seamless Flow is an important part of our strategy in the coming years. We have seen great results within other companies that are perhaps a little further ahead in their journey. Automation of tasks and processes frees up time that can then be used in more truly value-added work and help to reduce lead times. I am a strong believer in Seamless Flow and see it as a fundamental for Sandvik.
Seamless Sandvik
An increase in the automated flow of information across the whole value chain is key to the digitalization journey within Sandvik. Many activities are underway across the organization to create Seamless Flow to facilitate automated transactions that do not require any manual intervention.
From automated mines with self-driving machines to factories where tool data and machining instructions are updated from the cloud, Sandvik enables companies in many industries to make the most of digitalization to boost productivity and become more sustainable.
Journey toward Seamless Flow
The same kind of forward thinking applies within Sandvik, where Seamless Flow is a key enabler of increased productivity, higher efficiency and the shift of resources away from repetitive tasks toward spending time on creating value for customers.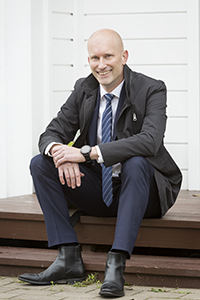 Andreas Burman
All journeys begin at home. For Sandvik the journey toward Seamless Flow began in 2018, driven by IT advances as well as customer expectations, according to Andreas Burman, Vice President Strategic Projects and a true Seamless Flow champion: "The more efficient our flow is, the better it becomes for our customers in terms of predictability, efficiency, transparency and stability," he says. "The digital shift is a part of our strategy, and we have to practice what we preach. Seamless Flow is also a vital component in realizing the strategy."
Increases flexibility
To be less volatile and more agile through a business cycle is also part of the strategy where Seamless Flow fits in, as it increases flexibility in handling ups and downs in demand without hiring or laying off staff.
Burman explains that there is still a relatively high proportion of work tasks that require manual handling, thereby increasing the risk of error and delay. "Some improvements can come about by changing the way we do things," he says. "Others are dependent on the introduction of new IT and ERP systems.
ERP stands for enterprise resource planning and is the foundation of Seamless Flow. Since different Sandvik products are very different in terms of how standardized they are and what the buying process looks like, there is no single ERP system that fits all. But the goal is to streamline the previously wide array of business systems and for each division to implement the one decided on.
What does Seamless Flow mean at Sandvik? Picture a customer placing an order electronically. The end-to-end process, from the customer ordering to Sandvik receiving the payment, is fully automated. Information flows seamlessly between the different process steps and subsystems. The same goes for the production process, the procurement process, the product management process and automated service tasks.
When it comes to the actual production of physical products, however, that is still to be automated. But so-called ghost factories, or closed-loop production facilities, are on the long-term road map, says Dan Ekholm, CIO at the business area segment Sandvik Machining Solutions. "The production stage is trickier to fully automate for customized and more complex products," he says.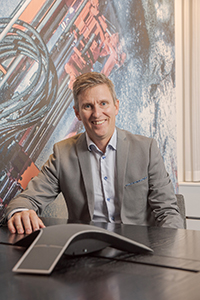 Dan Ekholm
Data is obviously at the heart of Seamless Flow, and the improved quality and availability of data is a key enabler, Ekholm points out. "We used to spend a lot of time verifying that the data we use as input in our decision-making was correct," he says. "Data has become much more accurate, which makes it easier to hand over decision-making to machines and systems using advanced algorithms as support.
The goal of Seamless Flow
"In addition," he says, "different partners in our ecosystems are increasingly demanding access to data, and Seamless Flow really helps us deliver on this. A growing number of users in the organization are able to benefit from new technology and apply change management to introduce new ways of working."
The goal of Seamless Flow is not to remove people but rather to use their time and skills in creating customer value instead of doing repetitive and monotonous key punching, says Burman. "We can spend more time on making sure that our customers realize the full value of our products," he says. "The tasks that are automated do not in themselves create value for the customer." Burman points out that the pace of change is increasing all the time. "If we keep devoting resources to tasks that don't contribute to customer value, we'll be left behind eventually," he says. "A stronger Sandvik will be able to develop into areas that matter tomorrow and satisfy the needs of the future."
One example of changing needs among customers is the fact that they want to be able to interact with Sandvik on as many channels as possible 24/7 and, if possible, place their orders and ask questions. "For that to work," says Burman, "our underlying systems need to be in perfect order and fully harmonized.