When Tong Wu was about to propose to his girlfriend, he had a special ring in mind. To produce it, he turned to Sandvik for help.
Tong Wu from Shenzhen, the Silicon Valley of China, works as a Digital Business Manager at Sandvik's Kanthal division. When he was about to propose to his girlfriend Xin he wanted to give her a unique ring that no one else would have, and since Sandvik is a leader in additive manufacturing, or 3D-printing, he knew where to turn. However, all he had was a napkin with a rough design drawing on it.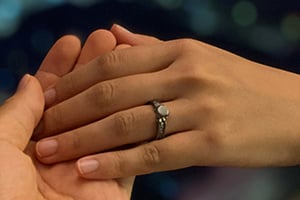 3D-printed perfection.
Only eight months prior to Tong Wu's request, Kanthal had launched its new additive manufacturing service but he immediately got a positive response to this odd requirement. Now it came down to material choice.
Tong explains: "I wanted something unique and one of a kind, with eye-catching technology like the ones we saw in movies such as James Bond or Star Wars. It should be durable and last as long as a real diamond ring would. When discussing material selection with colleagues, we had several options to choose from within Sandvik, but it was a no-brainer to go with Kanthal® AM100."
Advanced material
This material is an advanced heat-resistant ferritic iron-chromium-aluminum alloy (FeCrAl), specially developed for additive manufacturing. It is perfect when you want to create customized geometries that are difficult to produce with traditional manufacturing methods. Burner nozzles, protective shells, fittings, manifolds and tailored heating elements are examples of such applications. Or in this case, a very special ring.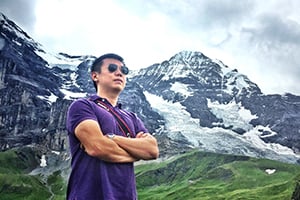 Tong Wu, ring maker.
Tong wanted his creation to be perfect. "Usually you measure a diamond ring by cut, clarity and so on," he says. "But my ring is best measured by high-temperature strength and form stability. No other diamond can match it."
Working with the additive manufacturing team, Tong fine-tuned his design and discussed material and time plan. The deadline was non-negotiable as he had already booked the restaurant, so the lead time was was only 3–4 weeks – but doable. In the beginning of August, Tong proposed to his girlfriend with the special ring, and she said yes. The wedding will be held at the end of 2020.
"Xin knows the whole story behind the ring, and she loves it so much, " Tong says. "So does my mother-in-law, who has spent her entire career in material science!"
The additive manufacturing team at Sandvik division Kanthal seldom produces customized rings such as the one Sandvik Digital Business Manager Tong Wu ordered. The team is accustomed to other, less romantic requests, but it loves the process of working with customers to improve design ideas, discussing material possibilities and supporting them from idea to printed product and beyond.