Kanthal is a world leader in manufacturing sustainable heating technology. But could the company use its expertise to make the fastest pizza ever? (And would anyone want to actually eat it?)
Pizza is one of the world's most popular dishes. You can chow down on anything from squid pizza in Japan to the gold-standard, Neapolitan pizza. Pizza Napoletana is Traditional Speciality Guaranteed (TSG), and the art of making an authentic one is included on UNESCO's intangible cultural heritage (ICH) list.
So, how long does it take to make a Neapolitan pizza? Strict rules state that an authentic Neapolitan pizza should be baked 60­­–90 seconds in a wood-fired oven at 430–480°C. That's pretty hot and fast.
But rules aside, how fast can a pizza be baked, in any kind of oven, and still be edible or even delicious?
A worthy challenge
"At Kanthal we take heating seriously and we innovate together with our customers to find the best solutions," says Björn Holmstedt, one of Kanthal's most creative R&D engineers. "Granted, pizza ovens are not part of our portfolio, but this challenge was impossible to resist."
After some research, Holmstedt found out that someone managed to cook a pizza in 45 seconds, which is pretty impressive. He noted that the record was set using lots of wood and gas – completely different from the electric heating technology Kanthal works with. It got him thinking that maybe he and his team could break the record and build a faster and cleaner oven.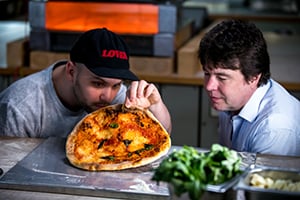 Oskar Montano, co-owner of pizza restaurant 800 grader and Kanthal R&D engineer Björn Holmstedt inspect their tasty collaboration. "I always enjoy taking on a tough challenge, and since I know that heat plays such a crucial part in pizza making, I saw this experiment as a perfect match for us," Holmstedt says. "As our technology can produce heat up to 1850°C, hitting a high temperature wouldn't be a problem. However, pizza making is a precision craft that requires care to get the perfect crust, so we needed to leverage our technology to provide a high and precise temperature that we could easily control."
Setting the stage
In Kanthal's process lab, located in Hallstahammar, Sweden, some 130 kilometres west of Stockholm, Holmstedt and his team constructed a prototype oven. It was based on the infrared heating principle, which uses electromagnetic radiation, similar to outdoor café heaters. They used eight so-called porcupine elements made out of the iron-chromium-aluminium Kanthal® AF alloy, each running at a temperature of 900°C, four each in the upper and in the lower parts of the oven. There were also reflectors, glass plates and cables.
Not only did the project team want to make sure that the oven performed perfectly, they also wanted to ensure that the finished pizza would be a tasty delight. They realized that they would have to find the right culinary partner, someone with the relevant skills but also with a competitive mindset.
Pizza oven fast facts
Built on the infrared heating principle, using electromagnetic radiation to heat up the object it hits.
Reflectors helped spread the heat.
The oven had eight porcupine elements made out of the iron-chromium-aluminium alloy Kanthal® AF, four in the upper part and four in the lower part of the oven.
The porcupine design of the spiral element provides good temperature uniformity as the radiant heat together with the larger surface of the coil contributes to a better performance of the elements.
The Kanthal® AF wire can be used at temperatures up to 1300°C. It was chosen for its exceptional form stability at high temperatures together with very good oxidizing qualities.
That's how Oskar Montano, co-owner of renowned pizza restaurant 800 grader (800°) in Stockholm, that specializes in Neopolitan pizza, got involved. Montano has lived in Italy and knows how the perfect pizza should look and taste. He thought the idea was crazy and, of course, wanted to be a part of it.
If you can't stand the heat…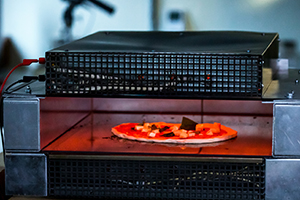 The newly created oven used eight so-called porcupine elements made out of the iron-chromium-aluminium Kanthal® AF alloy, each running at a temperature of 900°C.Montano prepared a batch of traditional Neapolitan pizzas. The first baking attempt at 900°C took just under three minutes. And the result? Well, the coal-black pizza bottom was conclusive proof that some fine tuning was required.
The second attempt was an improvement, but at just over two minutes showed there was a long way to go.
After a series of attempts, the team finally managed to bake a pizza at 37:55 seconds and a new record was set.
A perfect partnership
"I never thought this would be possible," Montano says. "As a chef, I'm passionate about creating the perfect pizza, and I'm always looking to improve what I do. And together with the guys from Kanthal, I found a partner that was as stubborn as I am on the pursuit of perfection."
Kanthal
Part of Sandvik Group, Kanthal is a global leader in industrial heating and provides sustainable heating solutions to a wide range of industries. Industrial applications are dominating but applications can also be found in toasters, hair dryers and ceramic glass top heaters. Kanthal is helping companies in many industries transition from fossil fuels options to electric offerings. To maintain this level of innovation, collaboration is key – and although this was the first time ever partnering with a pizza chef, Kanthal has a long history of progressive partnerships.