The Exera® brand of ultra-fine wires that are used in medical devices such as pacemakers and hearing aid implants are among the smallest products that Sandvik makes. But these tiny wires have a huge impact on the quality of life of the people who have them inside their bodies.
Sandvik is perhaps not as well known for its role in making products for medical applications as it is for its machining and mining solutions. But its medical sector within business area Sandvik Materials Technology is actually world-leading in producing the materials for items such as scalpels and bone saws, and tubes for bone screws and spinal fixation devices. Furthermore, the largest part of Sandvik's medical sector, by far, is the tiny wires made at a relatively small factory (110 employees) in Florida in the United States.
Carving out a niche
The range of Exera products consists of high-grade, ultra-fine wires and wire-based components. The wires are so tiny, in fact, that they have recently been used in insect brains to test responses to stimuli. Their small size and their high quality make them ideal for use in medical devices that are implanted inside humans. Usually these types of wire involved are most commonly found in consumer electronics. But the Sandvik factory in Florida, where Exera products are produced, has been carving out a niche role in the medical technology industry for the past 20 years.
"The first medical application that we got involved with was pacemaker leads," says Gary Davies, Head of BU Medical at Sandvik Materials Technology. "The customer knew that we made ultra-fine wires, but they needed a higher level of quality than what they were getting so they asked us if we could do it. We started prototyping and then began making the product that they needed."
As the factory took on more orders for medical applications, the core business began to shift to the position it has today, in which all the energy and focus is on serving the global medical device industry.
The trade name Exera was recently devised in order to generate brand recognition. "We came up with that name because we felt that it helped describe products that are made with high precision and excellent quality – the things that are really needed in the medical device market," says Davies. "As you can imagine, if you are having something implanted in your body through surgery, you want to be sure that it's made with the best components possible.
Inside the body
Exera wires are mainly used in four medical application categories (see side bar). They include pacemakers and catheters used in vascular therapy, implants to treat hearing disorders and brain stimulation devices that help control disorders such as Parkinson's disease or epilepsy.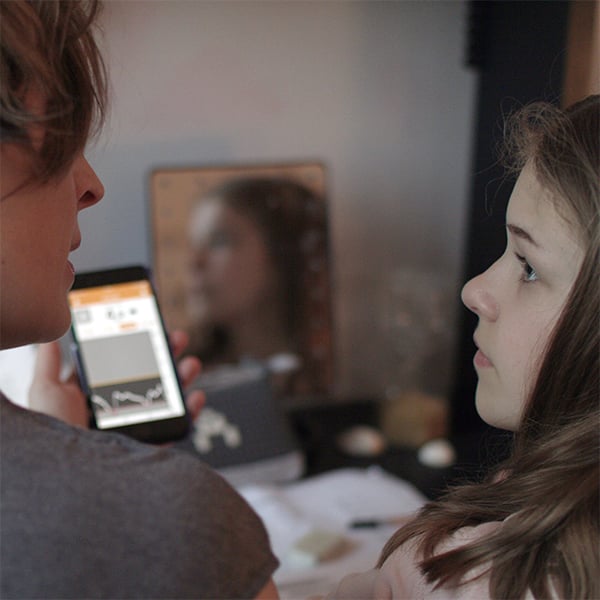 This continuous glucose-monitoring device that contains EXERA components is a life saver for Type 1 diabetics.
But the wires are not simply devices that enable other functions in the devices to work. They are often the actual main part of the device. Davies says the wires serve two main purposes. "They are either used to stimulate something, like a nerve or a heart muscle, or they are used to sense something in the body, like blood pressure and glucose levels.
"The electrode array of wires that is used in hearing disorder implants to actually stimulate the organ is, for example, made from these ultra-fine wires," Davies says. "And with the continuous glucose monitoring devices that people use to help adjust their diets or know when to take insulin, the wire is actually the sensor. It's the business end of the device."
Making components that are suitable for use inside the body requires a lot of extra checks and balances, which Davies and his team have developed the necessary competencies to handle. These include the need to make products in ISO (International Organization for Standardization) clean rooms to minimize contamination.
"We have to take special precautions because of where these products are used," Davies says. "And in many cases, they require high precision and elevated standards of reliability. We work with some products, such as pacemakers, that are implanted permanently, and which handle a lot of stress. And the cochlear organ in the ear is the same size after birth as throughout your entire life. So young children can get these devices and theoretically they can last a lifetime. The materials must be extremely robust to handle that long-term implantation. So, we spend a lot of time on the front end, undertaking numerous qualifications and validations of the materials and the processes to minimize failures."
Sensing and stimulating
The main medical applications that Exera wires and wire-based components are used in can be described in four main categories.
Vascular therapy
Exera wires are used in devices such as pacemakers and catheters that are used to treat cardiovascular, endovascular and peripheral vascular disorders.
Cochlear remediation
Exera wires are used to help treat hearing disorders by stimulating the nerves in cochlear and middle ear implants as well as stimulating acoustic signals in bone conduction systems.
Sensing solutions
Exera wires are used in sensor applications such as continuous glucose monitoring devices (CGMs) to measure blood glucose levels in real time and thermocouples that are used to treat tachycardia and atrial fibrillation.
Stimulation therapy
Exera wires are used in neurostimulation devices that include spinal cord stimulation and deep brain stimulation, which has proved to be effective in controlling movement disorders such as Parkinson's disease or epilepsy.
Active relationships
Research and development are also carried out at the Florida factory.
"We have existing relationships with most medical device OEMs," says Davies. "And it's a really nice situation to be in. We are very much customer-focused, and so all the products that we make are made for a specific reason or application. We don't tend to make one product for lots of different customers; we usually tailor-make something to a certain customer's application."
This, Davies adds, helps enable his teams to get involved with product development early on. "We have found this to be very important because many OEMs want to bundle a lot of different properties into one material so that they have different functionalities," he says. "By getting involved in the early stages we can help them understand what is possible. We're also, in many cases, putting insulation on the surface, some sort of polymer, so that it can be an active material. And so, we have development efforts around those different alloys and the different coating materials.
"We are not just a material provider, we are a solution provider," Davies says. "And as well as actively engaging with the large established medical device OEMs, we are also working with universities and research labs so that we can get involved with the new technologies that are out there. We have to stay very active in the development part of our business because we need to be able to continue to find new solutions and work on the next-generation devices."
One up-and-coming area that Davies is excited to be involved in is prosthetics. "Most prosthetics are inactive," he says. "The next step is to make them active. That requires a way to stimulate the nerves, so that you can open and close a hand for instance. We are working with some of the institutions that are developing these devices, which are using our wires to do the nerve stimulation."
Davies says that while his business unit is a small part of Sandvik, it is leading the growth and expansion of the company's involvement with the medical industry. And, he adds, it is a business unit that is easy to work for. "A lot of our products have a big impact on people's lives," he says. "So, whenever we have customers or end users come into the factory, we try to get the people manufacturing the products to interact with them. They can then see that every single day, they are really helping to improve someone's life out there in the world. It's a super-motivational place to work."
Find out more about Exera wire on materials.sandvik
Hands-on experience
When Katina Whitten was younger, she worked with developing the Exera wires used in continuous glucose monitoring (CGM) devices at the Sandvik factory in Florida. She had no idea that she one day would need a CGM herself. "I have what is called late adult onset Type 1 diabetes," Whitten says. "In my case, this means that my body is not creating insulin anymore."
The challenge with Type 1 diabetes versus Type 2 is that with Type 2 you can usually get your blood sugar under control with diet and exercise. With Type 1, however, you must take injections for the rest of your life because your body is not creating the hormone anymore.
"If you don't have a CGM that monitors your blood sugar, you have to do a finger prick anytime you want to know what your blood sugar level is. However, with the CGM, you can see what your blood sugar level is 24/7 without doing a finger prick. When the low goes low it alerts you to eat, and when it gets high the CGM alerts your insulin pump to automatically inject you with insulin."
"When we first started working on the project, I was very, very hands-on with the engineering part of it. So, I am very proud when I bring customers in; we have a very good team on the quality, engineering and production side that works very closely with the customers."
"Living with it now feels so much better than what I expected. I just thought it would be convenient. I never expected it to be life-changing."